557 North St., Madison, WI 53704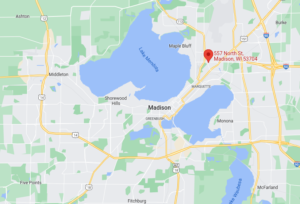 https://www.northstreetmsn.com/
3.5 out of 5 (Good to Very Good)
This summer a developer turned a former chemical reagent lab in Eken Park into a hipster shared-space for three existing businesses. It houses a coffee shop (Cafe Domestique), a tasting room for Young Blood Beer Company, and Bloom Bake Shop.  Cafe Domestique and Bloom are open mornings and afternoons, with the beer tasting room open at night. It is a really cool idea that maximizes the space, especially as coffee shops have been closing a bit earlier post-pandemic. If you haven't been out there, you should certainly check out the building, which also features some really cool murals (sorry for the terrible pic).  It is also on the same corner as Ogden's diner and The Tip Top Tavern, and down the street from North Street Cabaret, making North and Commercial perhaps the coolest intersection in the city.
This is all very exciting, of course, but what makes this even more exciting for me is that it is all just down the street from my house. For my entire coffee drinking life I hoped that one day I could just stroll down to a hipster coffee shop, instead of planning a trip. When I was in DC I was always in coffee marginal neighborhoods. My neighborhood was never cool enough for 6oz cappuccinos and latte art. But with the "arrival" of Eken Park on the scene of top hipster neighborhoods (we have a record store in the basement of the parole office and a hipster coffee shop in an old chemical facility), things sure are looking up.
Cafe Domestique's first location is on Willy Street, and is adjacent to a bike shop (that is sort of their theme). It is a cool little shop, that has the additional benefit of serving baked goods from Batch Bakery (two doors down), which I thin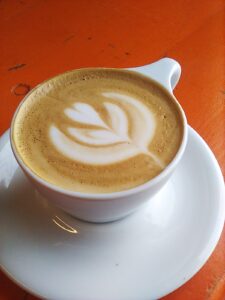 k is the best bakery in town. In the Eken Park location, you get your baked goods by walking down the hall to the bakery counter. Don't miss Bloom, because they are very good (especially the sweet potato donuts). And, of course, if you stay until 3pm you can grab a beer right after your cappuccino.
The cappuccino itself was quite good, but the milk was better than the espresso. The milk had a perfect consistency and sweetness. The latte art was also quite nice. However, the espresso itself was a touch bitter, which I could taste even through the sweetness of the milk. It wasn't off-putting exactly, but the best espresso in a cappuccino will tend to complement the milk (with its caramel,
chocolate, fruitiness, etc.)  rather than fight with it.  It was actually more of a problem when the drink was hotter, and got better as it cooled. This isn't too uncommon, but kept the cappuccino from being among the best the city can offer.  I'm not sure what caused this. Cafe Domestique serves Ruby coffee out of Stevens Point (along with some other roasters), and I know that those coffees can be quite good. It's possible that the espresso was slightly over-extracted, though I can't be sure. However, for this part of town I think Ledger serves up the better espresso.
All of that being said, I will of course be back to Cafe Domestique on North Street. They have a solid cappuccino offering, and the addition of a bakery in the same building along with awesome space makes it a great place to enjoy your coffee and hang out.