Last weekend, Taryn and I went on a little bike ride in the country; it was quite nice.  Rural Wisconsin is full of lovely….
Fields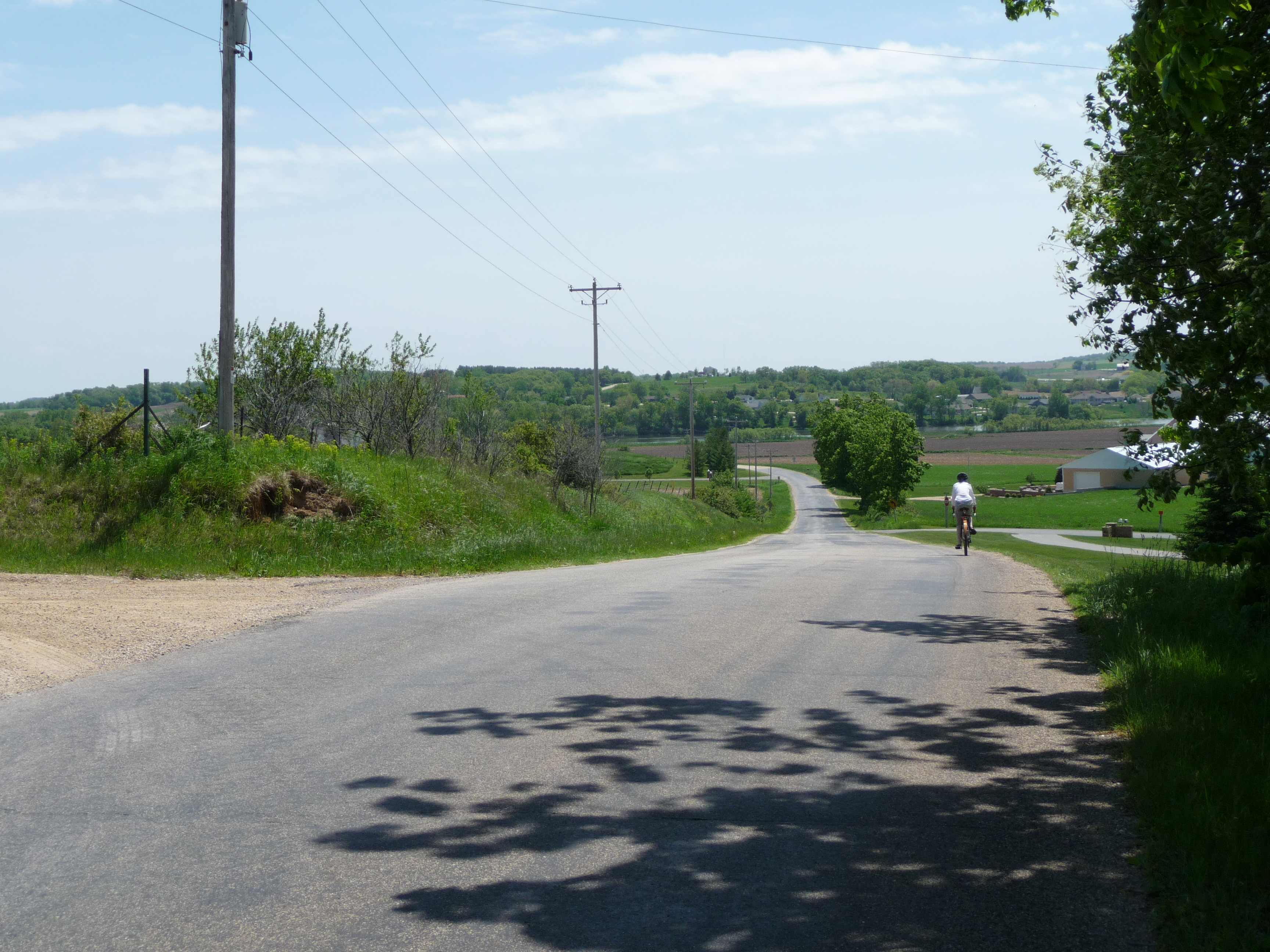 Winding Roads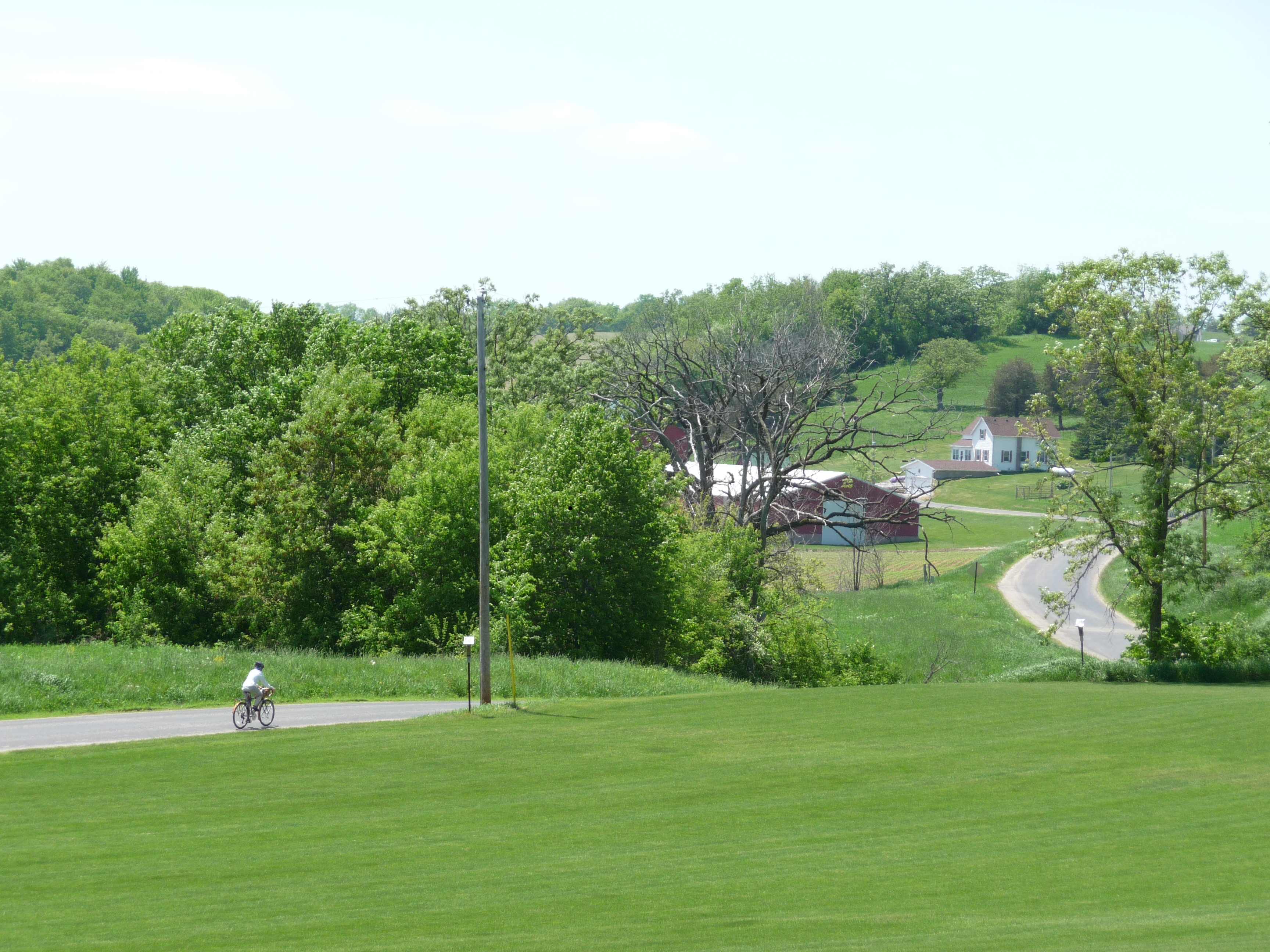 Cows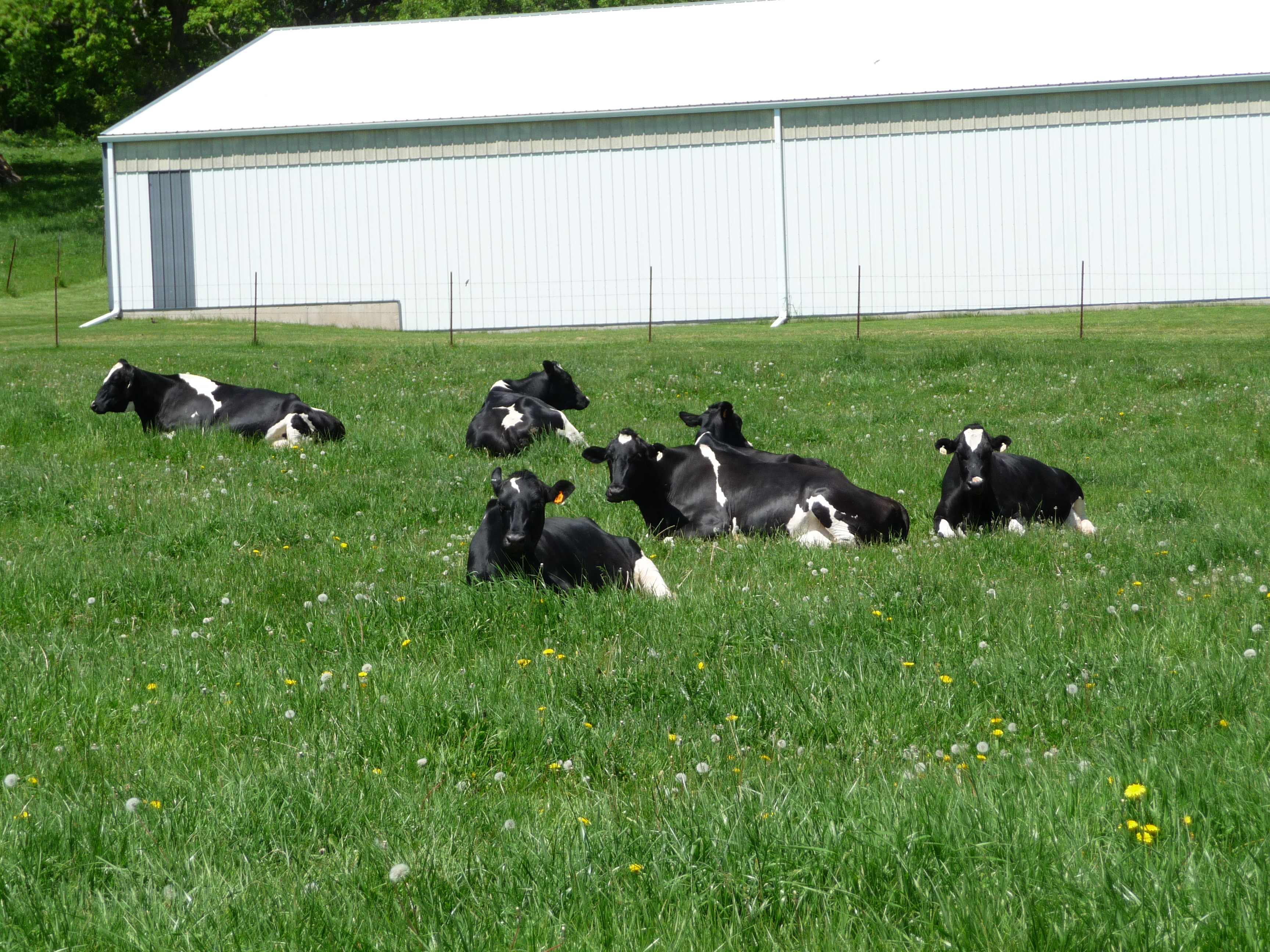 and….Subdivisions!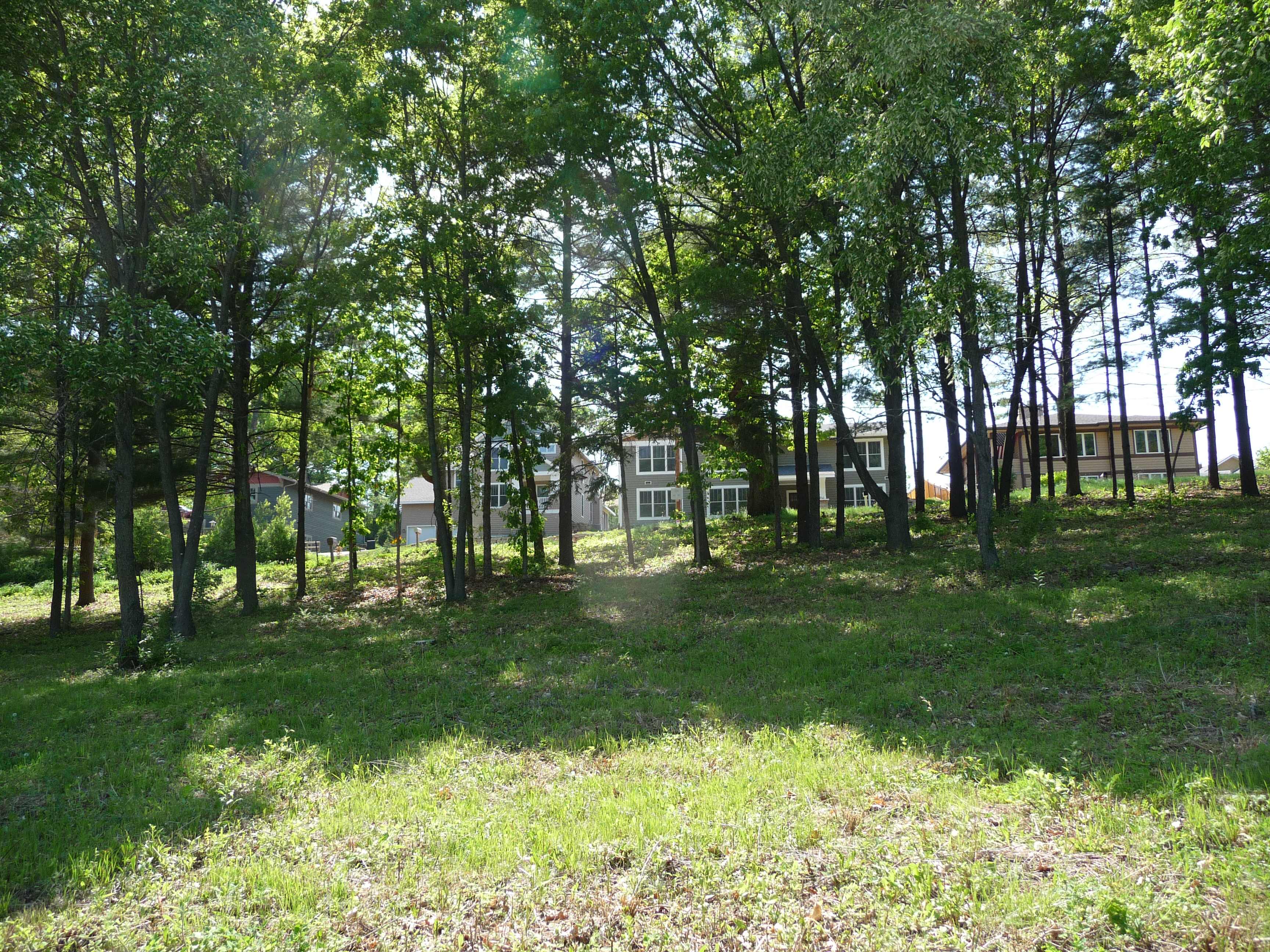 Ok, maybe that isn't entirely fair; the cows really weren't anywhere near the subdivision.  But, you should still get the point.  On the way back from our bike trip, we stopped by a subdivision in Middleton (a suburb of Madison) called Middleton Hills.  The neighborhood has been lauded as the first example of new urbanism in Wisconsin.  The concept of new urbanism isn't exactly clear, but I take it to mean that it was constructed with a slightly higher density in order to facilitate a walking culture.  This is supposed to not only decrease traffic, but also facilitate community development by bringing people into common spaces.  I'm a fan of new urbanism, at least as it is theoretically laid out; however, I was curious whether that theory could be an effective guide to a real development in a very car oriented place like the Madison metro area.
Middleton Hills was designed by DPZ, headed by Andres Duany and Elizabeth Plater-Zyberk in 1993 and has since then slowly developed.  There are two main aspects of the neighborhood to keep in mind.  First, the design of the neighborhood is in a new urbanist style; this means that houses have small yards, relatively high density (for the suburbs) and a distinct community center (with stores).  However, it is also a very regulated community; the dwellings are all designed in a certain style and every aspect of home and yard design is strictly regulated by a covenant (I recommend looking at the full covenant available at this site – its specificity is a bit startling).  For instance, every home design must be approved by a board to guarantee that it will fit cohesively within the community.  They prefer prairie style homes, so you will see an abundance of these in Middleton Hills.  If you don't know anything about new urbanism, I recommend looking at the wikipedia article.  For now, I'm just going to start our journey through Middleton Hills…..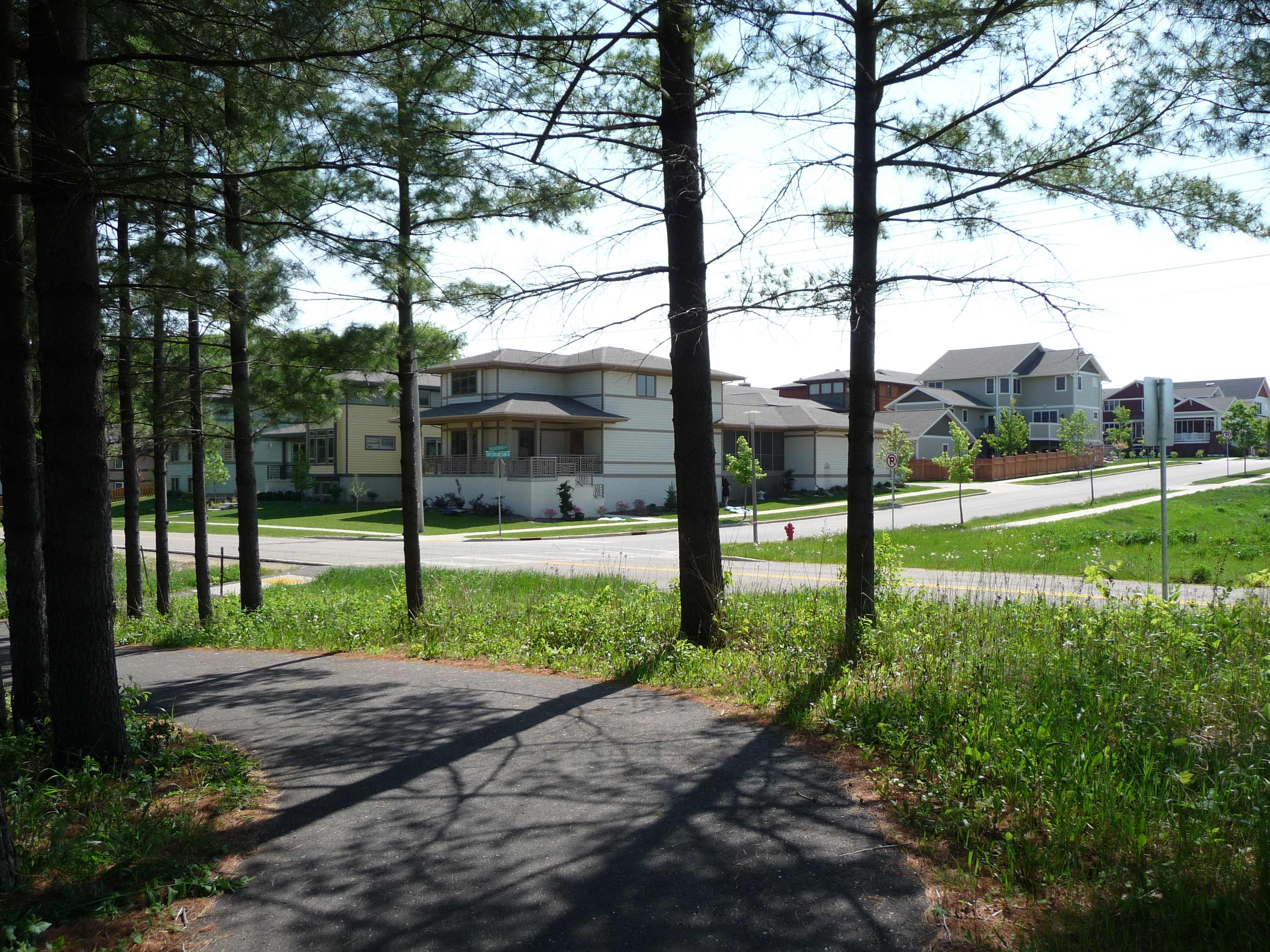 As one emerges from the nature preserve adjacent to Middlton Hills, you are treated to an interesting sight.  This part of the Middleton Hills (the north-east side) is full of new and large prairie homes.  That was what impressed me the most; these are very expensive homes, and that lends a certain air to the experience.  It is yuppie, ordered, and clean (to the point of almost being sterile); how you respond to those three adjectives will likely determine how you will feel about Middleton Hills.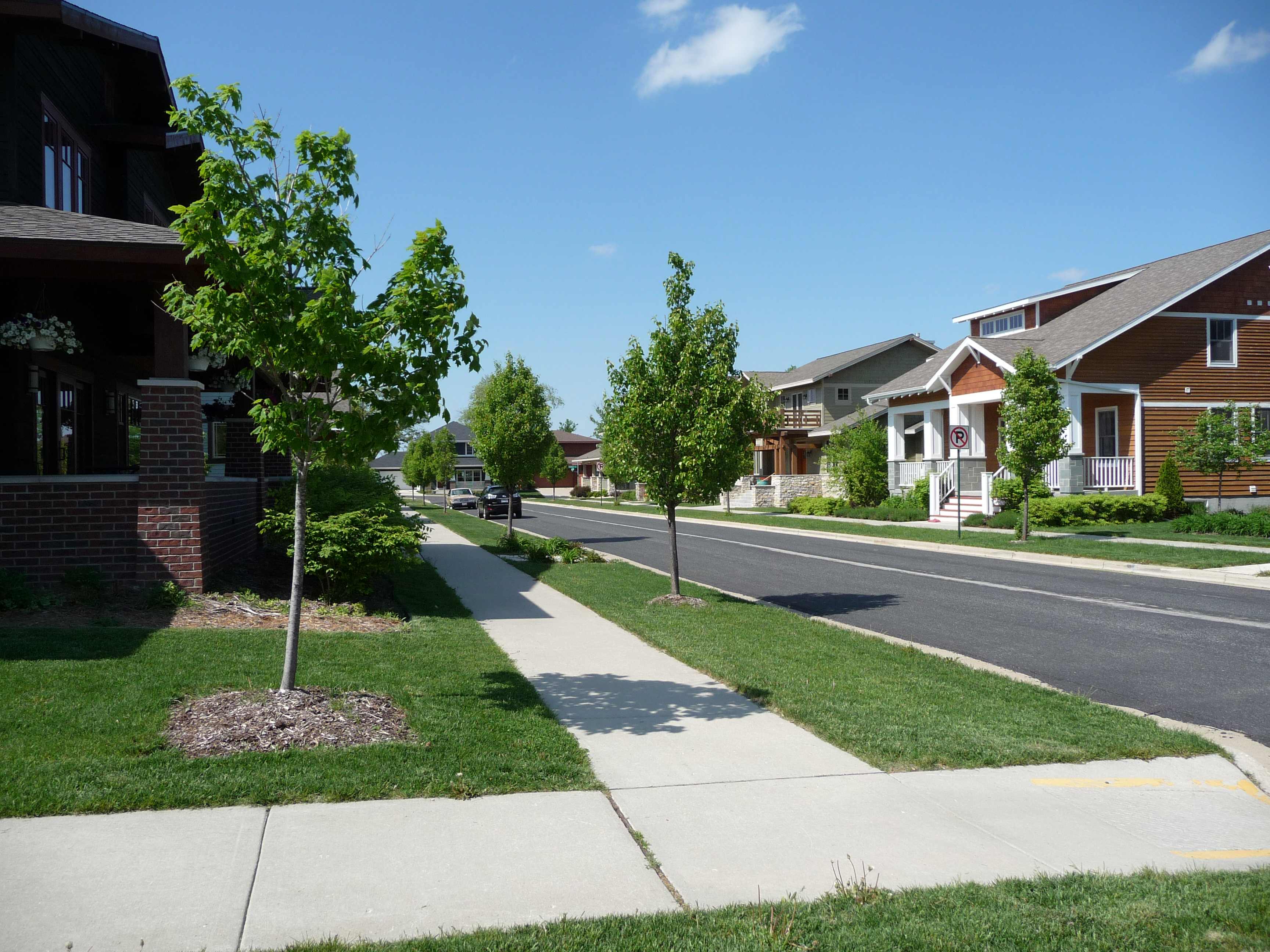 All of the lawns are perfectly manicured (more so than I have every really seen) and every house looks to be in perfect condition.  The little trees and bushes seem to be carefully placed in a very deliberate way; and in fact, their placement is defined in the building plans.  All of this has been approved by the community design board; I didn't like it; neighborhoods with a great deal of complexity and nature make me feel like there is something alive there.  Large, rich suburbs make me feel a bit uneasy;if I actually lived in such a place, I might start drinking a lot more.  However, we should remember that this is far newer than many of the neighborhoods that might seem more friendly or natural.  The complexity of old neighborhoods takes time, so perhaps Middleton Hills will become less sterile as it ages.  However, I wonder if the extensive controls of buildings and landscaping would allow for this development.  Only time will tell, I suppose.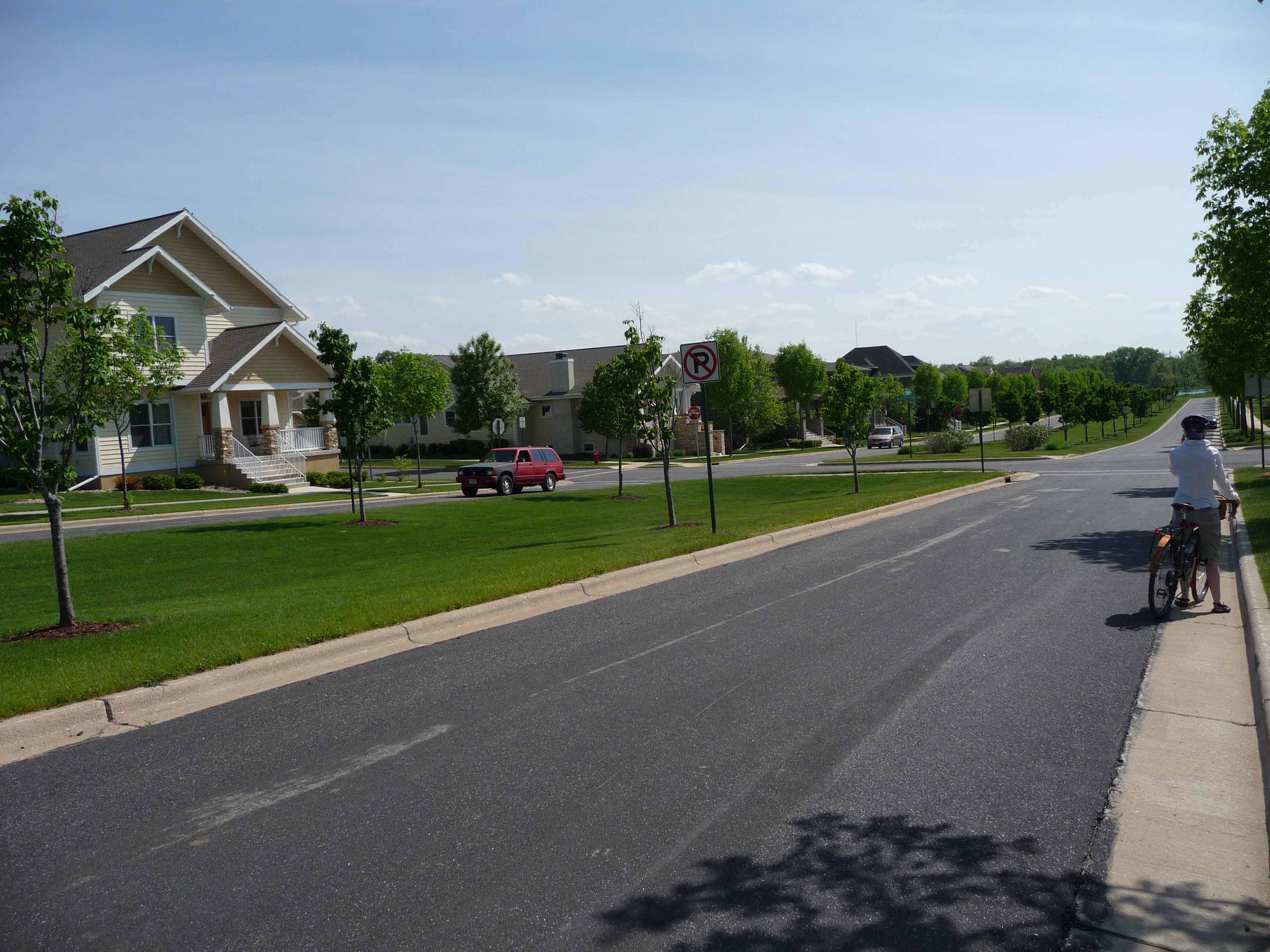 Above is the boulevard; perhaps when the trees grow up it will create a nice place to be but right now it just makes for a large expanse that is void of any life.  It does function as an indication of the main road; it made it easy for us to find the path to the community center but didn't do much else.  One thing that started to bother me was the lack of people out and about; we had ridden through a good portion of the place without seeing a soul outside of their cars.  This entire construction (higher density, with front porches very close to the sidewalk) is supposed to make more people walk around the community but on such a beautiful Sunday afternoon, the streets were vacant.  That makes it seem like something is very wrong with the neighborhood.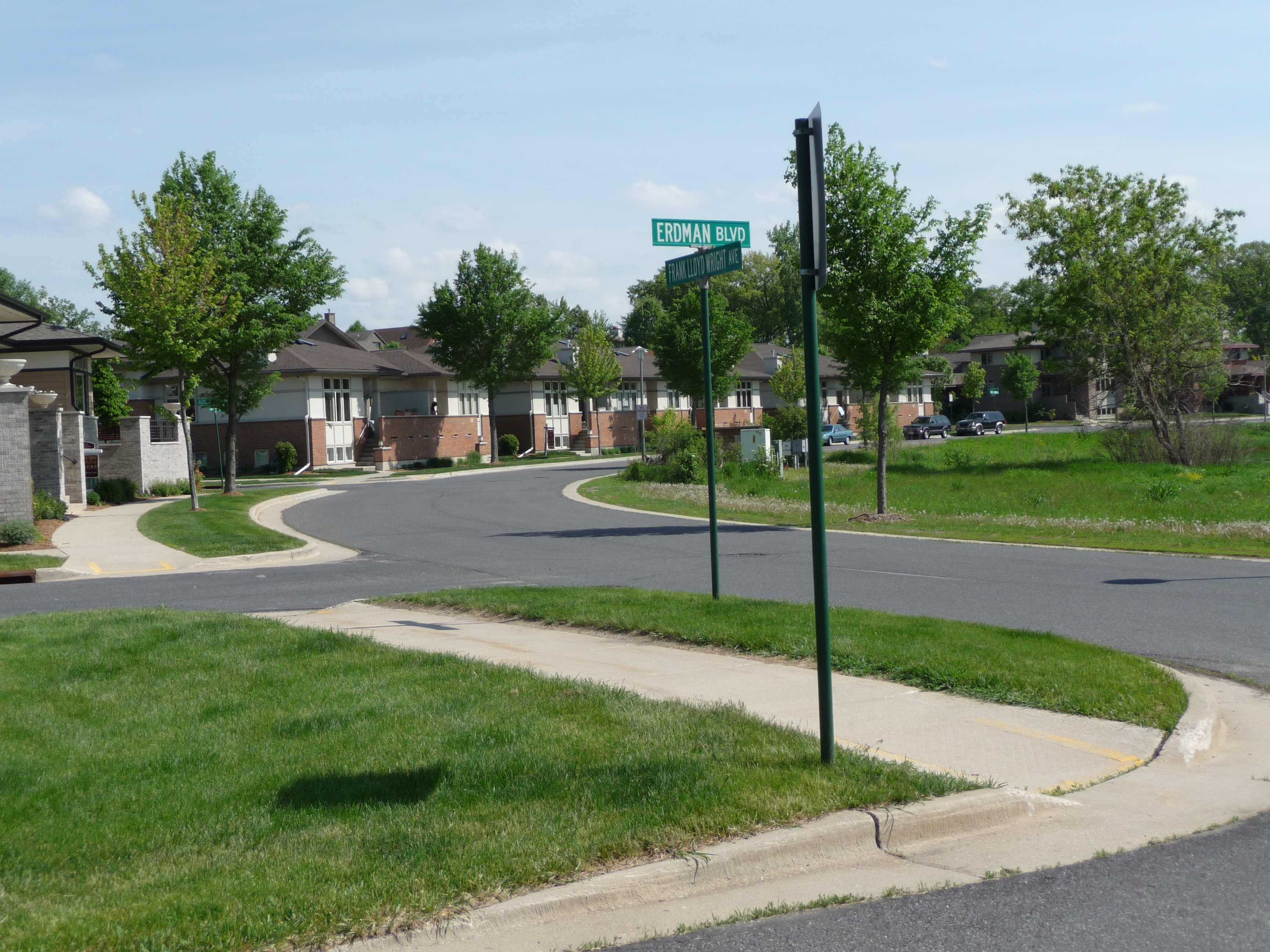 The closer one gets to the community center, the higher the density becomes.  Here you see duplexes (I think); I actually think these are pretty attractive and I like the idea of increasing density in this way.  However, these are extremely expensive.  I recently found an ad for one of these condos on the Middleton Hills neighborhood association web site and it was posted for $374k.  The problem is the type of condo this is; I'll post the details below:
6874 Frank Lloyd Wright Ave
3 Bedrooms
2 Bath
2700 Sq.Ft.
$374,936.00

Impeccably maintained Middleton Hills condo overlooking pond. Beautiful sunsets right outside the front door! Built 7 years ago, it still looks brand new! Gourmet kitchen w/cherry cabinets, stainless appliances, solid surface counters. Open floor plan w/2 sided fireplace, maple floors, trim & doors, & attached screen porch. Spacious master w/whirlpool & ample closets throughout. Tons of additional storage. 3rd bedroom needs stairs for legal egress. Square footage taken from Middleton Assessor. Owner is licensed realtor. Open Sundays 1-3.
So, the homes and condos being sold in Middleton Hills are for the rich.  This is strange to me because this land should be cheap; one should be able to get a very affordable home all the way out in Middleton. However the prices for condos in this neighborhood rival those in downtown Madison, simply because they are constructed in a luxurious way.  One should remember that a central tenant of new urbanism is the need to build complete communities; you need to have places to live for both the person who owns the community store and the person who works behind the counter.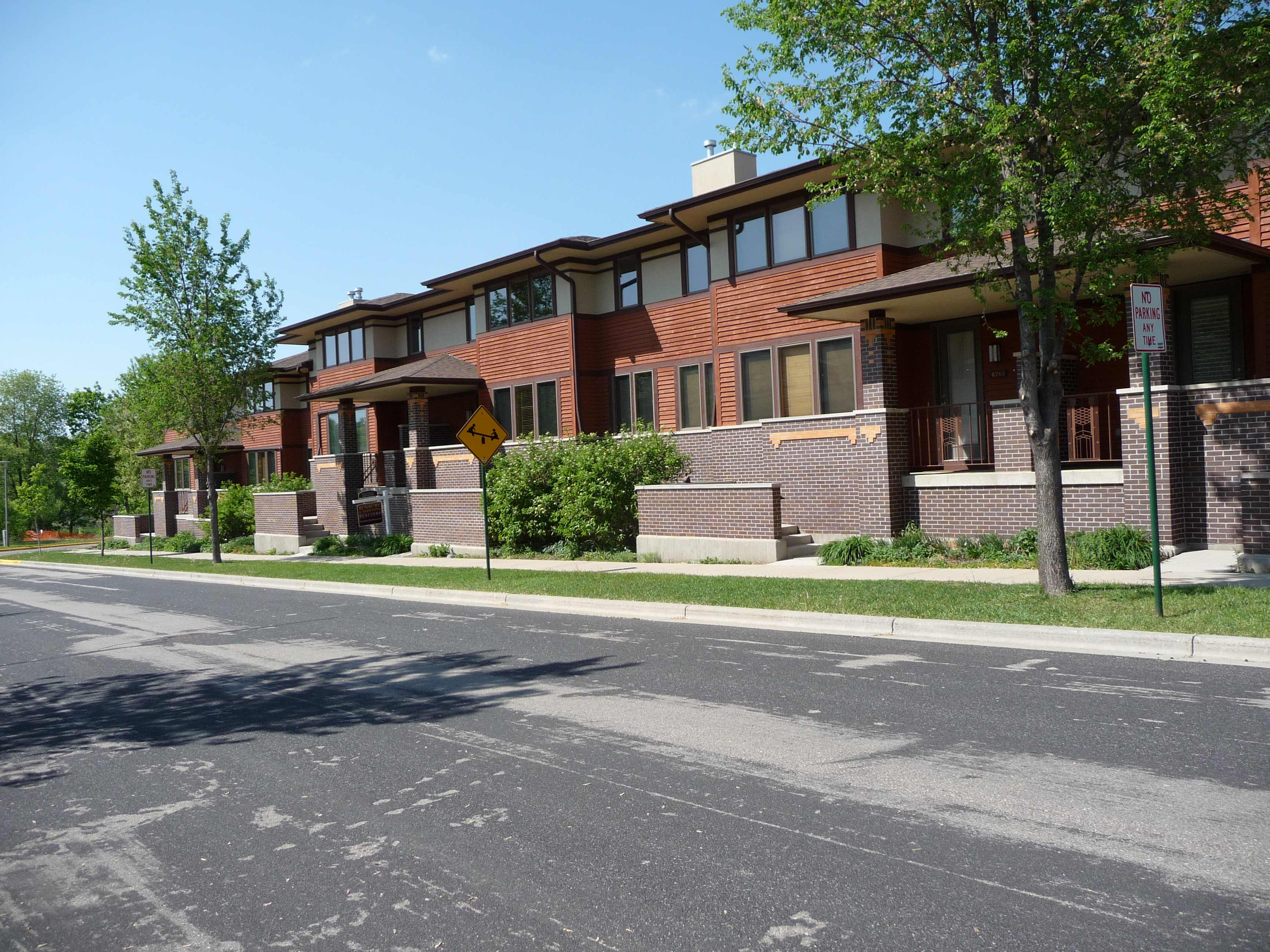 This was the highest density area that I could find in the Middleton Hills development; they look to be more condos, and I am sure they are beautiful and expensive.  I think this absence of modest housing is a huge problem for the community; in a sense it means that this subdivision is not a community at all.  I will get to the "community center" in a moment, but I can preemt this by observing that most of those living here must drive to work every day.  The same goes for those working in the businesses nearby; the prices keep those who work at the nearby grocery store or coffee shop from actully living near their workplace.  The location is also poorly integrated with the mass transit system of the Madison metro area; this means that Middleton Hills is just as car centric as any other suburban area.  And this reliance on the car is one of the things new urbanism is meant to remedy.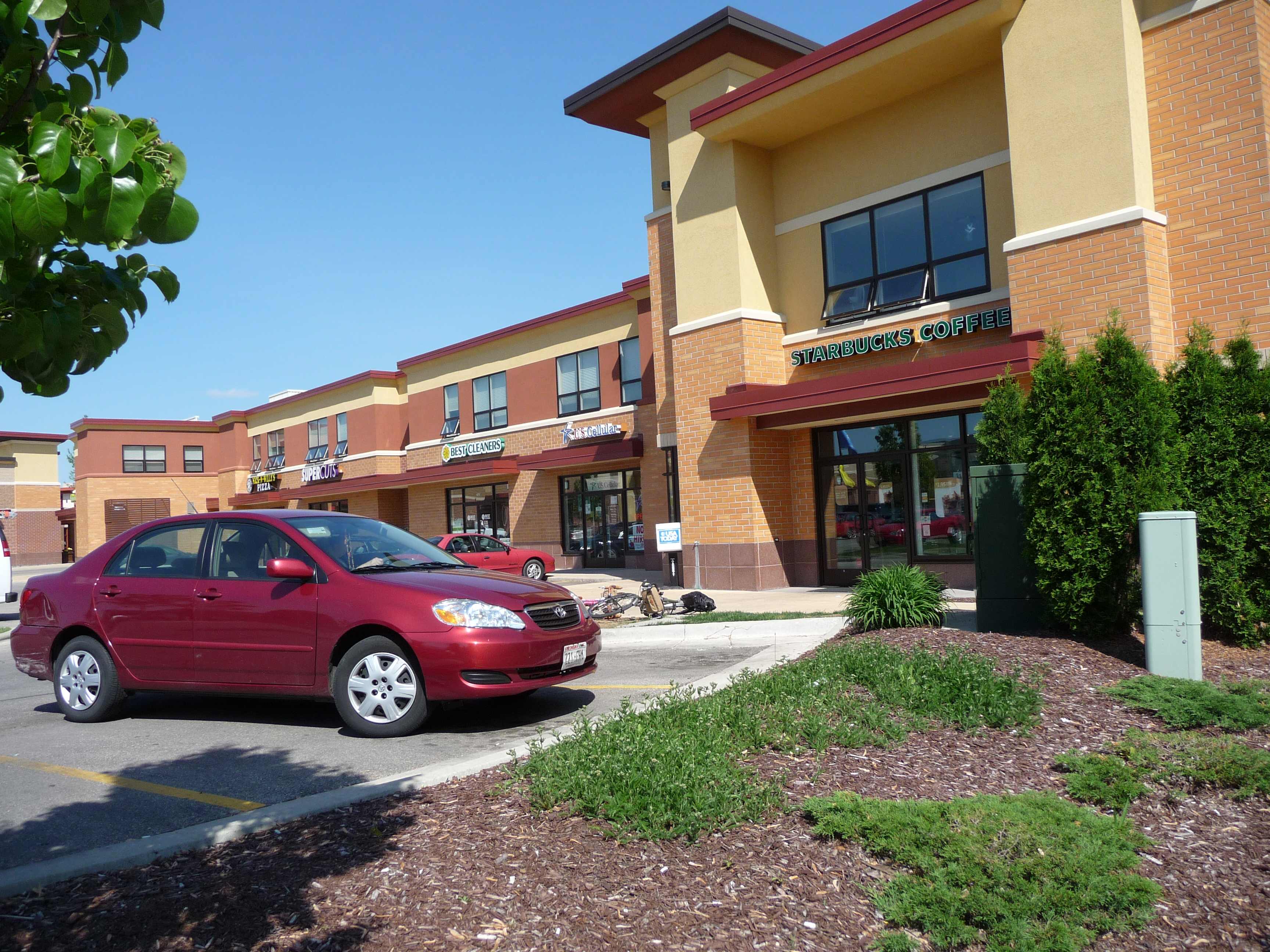 Here is the "community center"; the supermarket is off to the left (outside of the picture); it is a prairie style strip mall, I suppose.  The idea of having a shopping center close to ones home is that you might walk there.  I got the impression that most people took their car, even if they were just going to get a cup of coffee (and remember this was a near perfect day to be outside).
So, that is the end of the little tour.  I think Middlton Hills fails pretty miserably at being a good example of a well functioning community.  I suppose the architecture is more interesting than most subdivisions, but it lacks the same life that true urbanism provides.  I would be very intersted to see these principles developed in a part of town closer to where people work (and with better mass transit connections); but the current example, located so far from the necesities of life, is almost destined to fail.  In the end Middleton Hills felt almost like a caricature of new urbanism, rather than the real deal.  I'll certainly return to this visit in some later posts; right now I have to go do something useful for a change.