Chinatown Coffee
475 H st. NW Washington, DC 20001
www.chinatowncoffee.com
Read about my planned cappuccino tour around the DC area.
When Chinatown coffee opened in 2010, there was a great deal of excitement surrounding it.  Nick Cho, of Murky Coffee fame (who I have mentioned in previous posts), was even general manager at Chinatown for a while (before DC went after Cho for back taxes, and they ended their "relationship").  In fact, Chinatown was the first coffee shop I went to in the district; it was supposed to be among the best.  The shop is located in the very lively Chinatown district of DC, close to a number of large offices, shopping areas, excellent places to eat (along with a good number of really crappy Chinese restaurants), and museums.   On paper, the place has a lot going for it.  However,  I have always found it to be a bit of a letdown; I have been here many times while living in DC and it has almost always been consistently worse than other top coffee shops.  But we will come to that a bit later.
Chinatown coffee is a rather small exposed brick shop; it is what you would expect from the pinnacle of hip urbanity.  They serve bottled beer and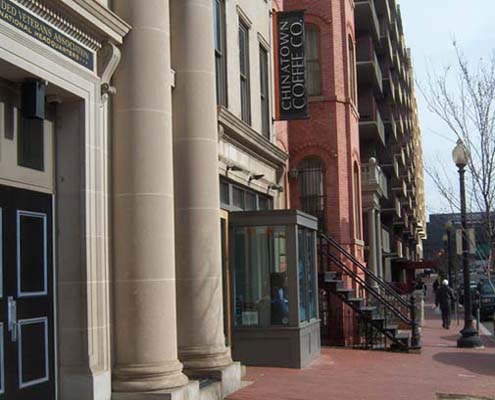 baked goods along with their coffee, but no other food.  I have to say that the muffins are delicious.  Recently they have also hosted a variety of food trucks (all the rage in DC) on Thursday nights, very cool!  It is always seems crowded (regardless of the time of day), so expect this if you visit; as with many DC coffee shops, getting a seat can be a chore.
The cappuccino looked very nice, with perfect microfoam.  This sort of foam-perfection is the norm here.  However, I was not impressed by the underlying espresso, which is odd given that Chinatown uses one of the best coffees in the country (Intelligentsia, out of Chicago).  I'm not positive about why this is, but I
saw that they were selling some coffee beans that were well over a week old; it is possible that they were using beans that were a little past their prime.  Regardless of why the espresso was lackluster, it lacked any real complexity and had an off-putting bitterness.  This is certainly unfortunate given how seriously they seem to take the preparation of their coffee drinks.  Here are the ratings, all out of a possible 5 points:
Smoothness: 3.3
Presentation: 5
Strength: 4.7
Complexity: 4.0
Foam: 5
Mean: 4.4
SD: .74
Chinatown is certainly the best coffee shop in its part of DC, however there are better offerings  in nearby Capitol Hill and Dupont Circle.  If you are in the area it is certainly a place to check out, but if you are willing to travel a bit there are better offerings elsewhere.