1101 Williamson St, Madison, WI 53703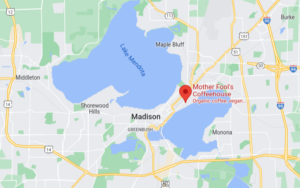 4* out of 5 (Very Good)
Note that they are check/cash only.
Mother Fool's was one of the first cappuccinos I reviewed back in 2009.  They made a great cappuccino then, so this was certainly a shop that I wanted to get back to for this round of cappuccino reviews.  I had a pretty busy end to my summer, but in late July I stopped in to try out their cappuccino again.
Some things haven't changed at all. It is still a classic Madison "hippie" coffee shop, and one of the few with live music.  For a long time they have featured a good selection of vegan baked goods, but the big change since the pandemic is that their espresso drinks are now vegan only as well. It's a pretty radical move that puts them in a small club nationally.  Certainly, I don't know of any other vegan only coffee shop in Madison (though I'm not vegan, so I might just be unaware).
The lack of whole cow milk left me in a bit of a quandary as far as a review goes. Oat milk was the recommended dairy replacement for a cappuccino, but I can't say I have ever had it before. And it is also hard to compare the cappuccino at Mother Fool's with other shops, because whole milk is a central component to a traditional cappuccino's flavor and texture profile. With all that in mind I'm putting a "*" next to this rating, because it seems a little strange to compare a vegan cappuccino directly to a milk-based cappuccino.  But my rating just reflects how much I liked the drink itself, so just take this all at face value.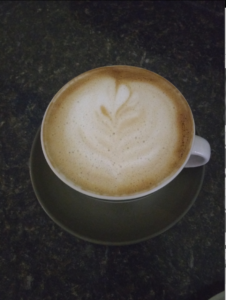 I had an oat-milk cappuccino and a vegan donut (which I have had before and are great). I was a bit surprised at how good the oat milk tasted in a cappuccino. When integrated with the espresso the oat milk gave the drink a nice "baked-good" taste of caramel and brown sugar.  It had a surprisingly neutral creaminess, though the flavor profile certainly was different from any cow milk cappuccino that I've ever had.  The consistency of the oat milk seemed a bit thinner than whole milk, though not nearly as much as I had expected, and so I'm guessing this hurt the definition of the latte art. That said, the steamed milk still had a good amount of microfoam and a nice consistency.
I still like whole milk more than oat milk, but Mother Fool's makes a great cappuccino regardless of the type of milk.  It should certainly be a destination for any vegan, and also one for non-vegans to check out.
As this is the first coffee shop I've reviewed from my 2009 list it is worth noting that the drink they are serving now is likely better than the one I liked so much more than a decade ago. However, the '10s were a period of pretty dramatic improvement in the Madison coffee culture. Mother Fool's has certainly kept up, and it will be interesting to see if others have too.