I have been trying to write a continuation of some of my thoughts I presented about ethics in a previous post.  But, I don't want to throw anything online until the post doesn't suck.  However, life goes on and we must eat, so maybe I'll just share a really good wheat bread recipe that I found.  Yes, everyone is capable of making fresh bread!
The link is here, but I'll just repeat it below:
1 cup warm water (110 degrees F/45 degrees C)
2/3 (.25 ounce) package active dry yeast
1 tablespoon and 2-1/4 teaspoons honey
1-2/3 cups bread flour
1 tablespoon butter, melted
1 tablespoon and 2-1/4 teaspoons honey
1 teaspoon salt
1 cup and 3 tablespoons whole wheat flour
2 teaspoons butter, melted
In a large bowl, mix warm water, yeast, and

1 tablespoon and 2-1/4 teaspoons

honey. Add

1-2/3

cups white bread flour, and stir to combine. Let set for 30 minutes, or until big and bubbly.

Mix in 1 tablespoons melted butter,

1 tablespoon and 2-1/4 teaspoons

honey, and salt. Stir in

1 cup and 3 tablespoons

whole wheat flour. Flour a flat surface and knead with whole wheat flour until not real sticky – just pulling away from the counter, but still sticky to touch. This may take an additional 1 cup of whole wheat flour. Place in a greased bowl, turning once to coat the surface of the dough. Cover with a dishtowel. Let rise in a warm place until doubled.

Punch down, and form into loaf. Place in greased 9 x 5 inch loaf pans, and allow to rise until dough has topped the pans by one inch.

Bake at 350 degrees F (175 degrees C) for 25 to 30 minutes; do not overbake. Lightly brush the tops of loaf with 2 teaspoons melted butter or margarine when done to prevent crust from getting hard. Cool completely.
The ingredient amounts are a little odd because the original recipe calls for 3 loaves, and the version above will give you 1.  Also you can substitute maple syrup for the honey.  Anyway, it was super easy and delicious!
I didn't roll mine into a log completely so it had a bit of a ridge…..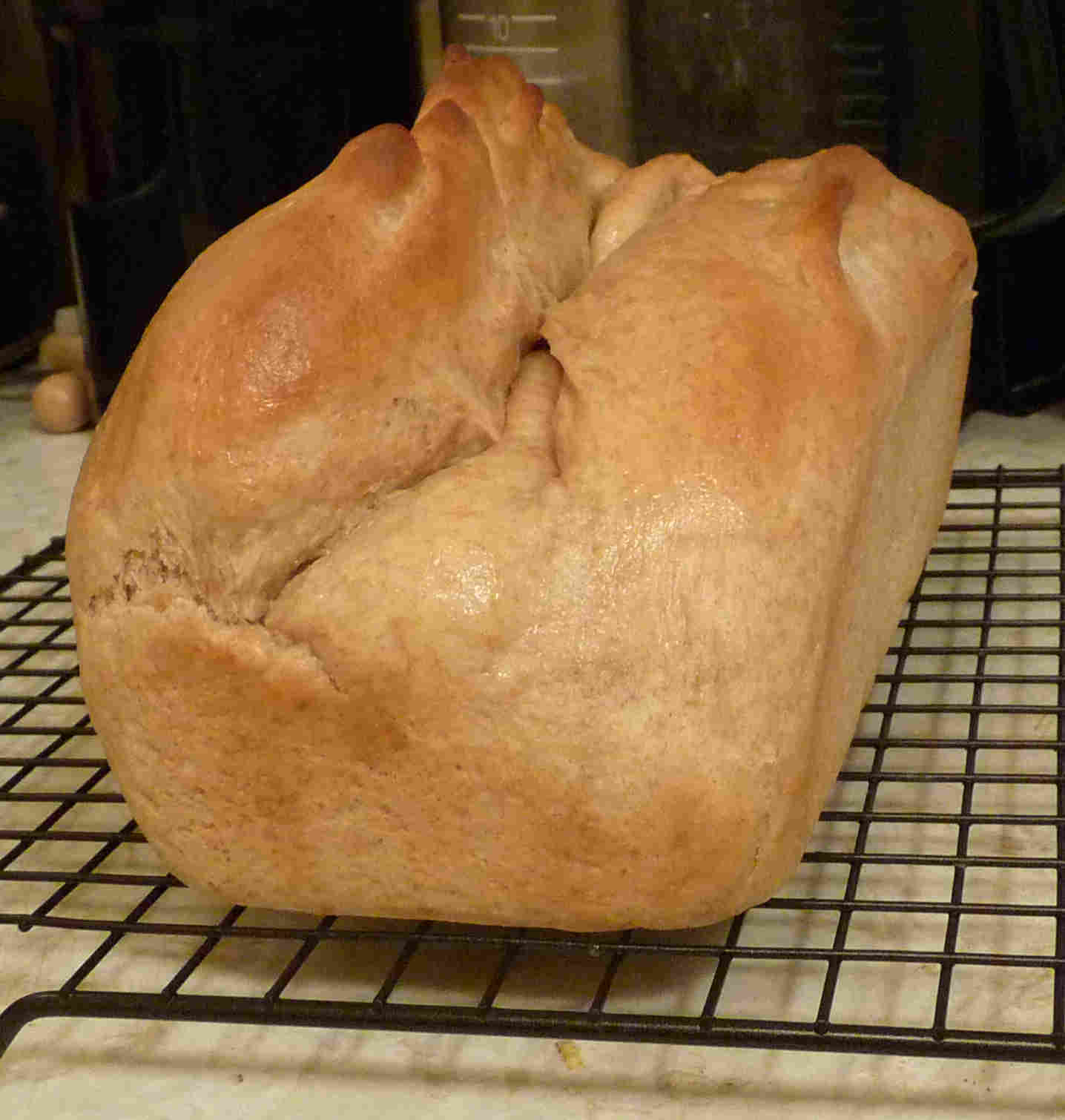 I guess you could call it dinosaur bread…but it tasted great!  I think I'll make another loaf tomorrow, and I'll make sure not to deform that one.  This also brings to light the fact that I've acquired the use of a digital cameras during Christmas; so, maybe I'll put more pictures on this blog when I get around to it.
Now go and learn how to make your own food; it is a far better skill than philosophizing!