Starbucks on the capitol square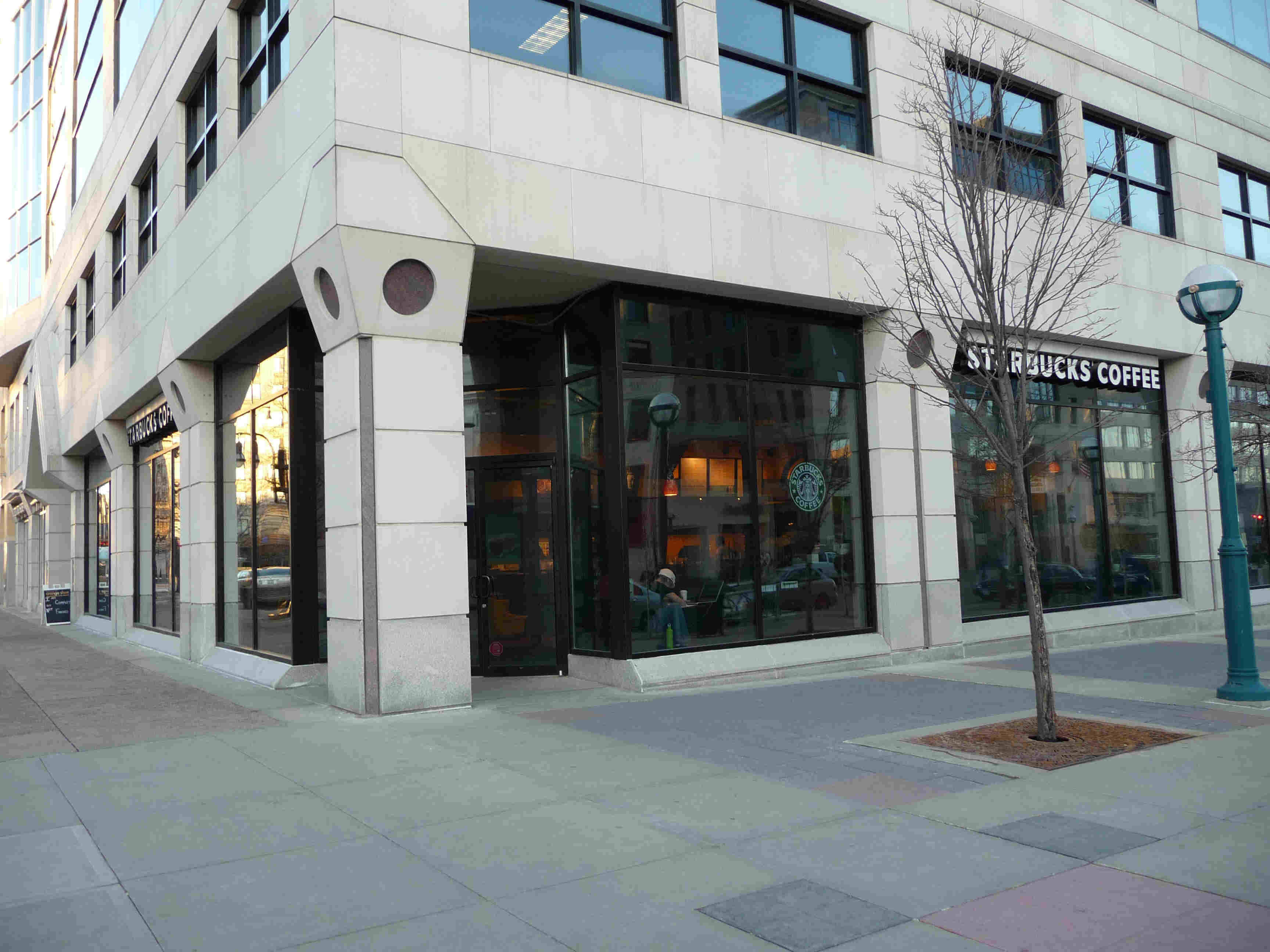 1
E Main St # 101
Madison

,

WI

53703
For an intro about how and why I am trying the cappuccinos of Madison, go here

It was a beautiful day in Madison today (topping out at 54deg F, which is amazing for Madison in February), so I met Taryn downtown after work and decided to start my series of cappuccino reviews with Starbucks.  You may love or hate the place, but you can't deny that Starbucks has forever changed the the coffee shop businesses.  It is often times argued that they come into towns and attempt to drive out locally owned businesses.  However, in my experience (I am from suburban Wisconsin) Starbucks has only increased the quality of local shops that could get away with substandard espresso drinks before the competition.  Starbucks does set a certain (though perhaps low) bar of quality.
I went to the Starbucks on the capitol square because I had not actually ever been in there, though there are many of them around town.  For all my reviews, I'll rate shops by 6 criteria; I explain them fully in a previous post.  I'll list my final ratings at the end, but here is my non-numeric impression of the Starbucks cappuccino.
I ordered a 'short' cappuccino, the mystery size that does not appear on their menu.  In my experience a 'tall' (12 oz) cappuccino is little more than a latte; you get the same 1 shot of espresso but with way too much milk.  However, the 'short' is still 8 0z (which is about 3 oz too large), but I'll take what I can get.  I was pleased when I got the drink though; previously at Starbucks I've only gotten cappuccinos to go.  The drink certainly looked like it might be a pleasant surprise.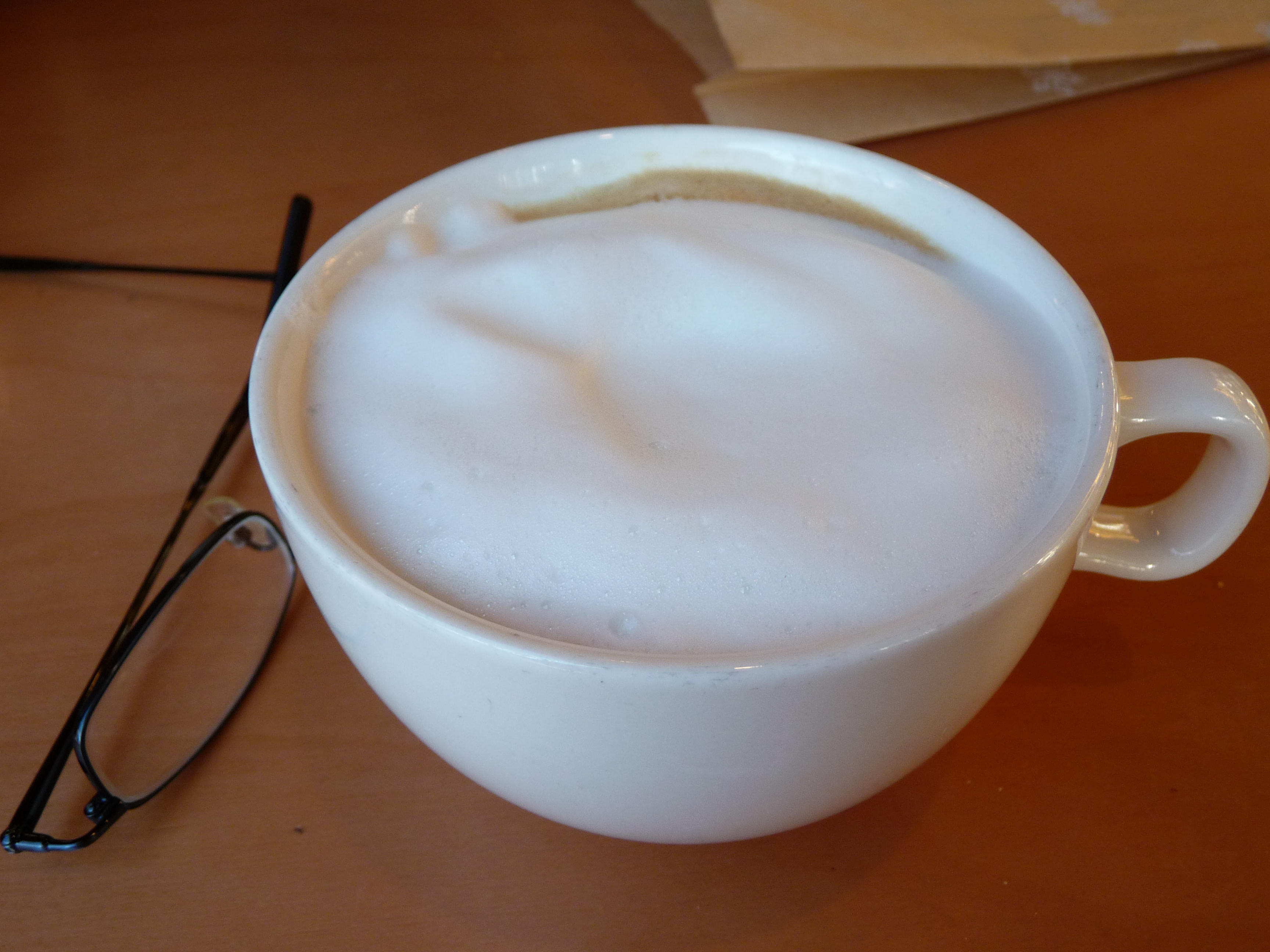 One good sign, as can be seen in the picture, is the 'espressoized' milk peeking through the foam; this usually means that you will at least be able to taste the coffee over the milk.  However, it is a tad too big (by about 2 or 3 oz) so I sort of expected a rather weak cappuccino.
And flimsiness is exactly what I got.  Although the foam was quite silking, sweet and good, the rest of the drink was weak and unremarkable.  The espresso that I did taste was just ok, a tad bitter and without much complexity beyond the stereotypical espresso flavor.  So overall, this was a serviceable cappuccino; I might get it again if I found myself in a Starbucks (though I'm not sure I would do so in Madison given my other options), but otherwise I wouldn't come here again.  However, I have to say that their toffee almond bars are really good; I might be back just for that!  In other news, Taryn's Chai latte was also "ok", a bit weak and average.  Here are the numbers for the cappuccino; all scores are out of 5 possible points:
Smoothness: 2
Presentation: 4
Strength: 3
Complexity: 2
Foam: 4
Correctness: 3
Mean score: 3 /5
SD: 0.89