Back in 2008 and 2009, I set out to review as many cappuccinos in Madison as I could. Back then the "third wave" had most decidedly not hit Madison, and the only place that had a first rate cappuccino (by today's standards) was the newly opened (and still excellent) Bradbury's. (You can go back and see those reviews by using the "Madison Cappuccino Reviews" category in this blog.)
My standards were also much different back then. I had yet to move to the east coast where I learned a lot about cappuccinos and coffee in general, and had the privilege to try drinks from some of the wold's best espresso shops in New York City, LA, and Europe. I also undertook to review some of DC's coffee shops on this blog when I was living there ("DC Cappuccino Reviews" category). DC is no New York or LA, but they have a thriving coffee scene. So I learned quite a bit.
A lot has changed in Madison's coffee scene since then, and I feel the need to take a look around town again. The pandemic also did a number on local coffee shops. Whether it was the flight of experienced baristas from food service or those paper to-go cups, it seems that cappuccino quality really deteriorated during the pandemic. I'm hoping this trend has reversed a bit.
I'm going to be a bit more holistic this time. Rather than breaking down ratings by each aspect of the cappuccino, I'll just give single rating from 1 to 5 stars.  Also ratings will only reflect the cappuccino itself, not the coffee shop in general or other items there.  But I'll describe what is great (and not so great) about each cappuccino.  I'm only going to try one location for the chains, and there will be some I avoid (like that chain with all of the health-code violations….). I'll start with a go-to coffee shop near my house, in a formerly abandoned feed mill and beet processing plant.
Ledger Coffee
3241 Garver Green Suite 140
4 out of 5 stars (Very Good)
Located in the redeveloped Garver Feed Mill, Ledger is the only first-rate espresso shop within walking distance to my house. So I find myself there quite a bit. Up until a few years ago I just knew this building as a decaying former beet processing plant behind Olbrich Gardens that I would pass along the bike trail. Now it contains an Ian's pizza, a fish co-op, kombucha producer, yoga studio, and a number of other interesting businesses.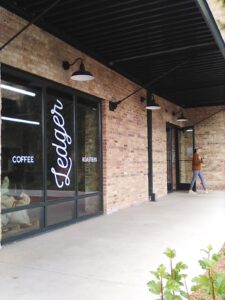 Ledger roasts their own beans on site, and is a pretty small operation. They only have a few baked goods from outside bakeries, and they often sell out of the best stuff pretty early in the morning. They only do to-go orders (sad paper cups). Although the Garver site has lots of seating outside, so you can linger. This means that if you want them to make your drink in a real cup, you need to bring it yourself. So I brought along a 6 oz cup from home, and they happily made me a cappuccino in it.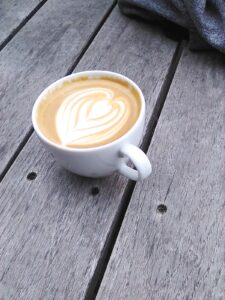 The milk and foam were top notch, with some nice latte art. Of course, latte art itself doesn't matter, but its presence is a good indication that the milk is of the right consistency (with micro-foam instead of course foam) and the barista is skilled.  The foam was sweet and smooth – perfect actually.
The only reason why Ledger's cappuccino isn't top-tier is the "flatness" of the espresso.  I don't know whether this is a problem with how the shot was pulled or the beans, but the espresso seems to lack much depth of flavor. There is simply a slight bitterness and standard espresso flavor, but not much in the way of interesting fruit, caramel, or chocolate notes.  I know that their single origin coffees are very good (and interesting) when I've prepared them at home (either pour-over or espresso), but I haven't been as impressed with their prepared espresso. That being said I have not tried their espresso blend beans, so perhaps that is the issue.
Even given the lackluster espresso Ledger makes a very good cappuccino. After all, I keep coming back for it! I also highly recommend their seasonal lattes, including the really impressive rose latte that they have been serving lately. They also have very good vegan donuts on weekends (they are really good…trust me!). But come early, because they sell out fast.