Qualia Coffee

3917 Georgia Ave. NW
Washington, DC 20011
http://www.freshofftheroast.com/qualia.html
Read about my planned cappuccino tour around the DC area.
Qualia coffee is (to my knowledge) the only small scale coffee roaster in the district.  They roast their beans in the backroom of their little shop, offering new batches of freshly roasted beans most weekdays.  I've often used these beans for both espresso as well as pour-over brewing, though I don't think they quite match up Counter Culture (one of the other major brands used at coffee shops in the DC area).  So, I can already vouch for Qualia's whole bean coffee, but I wanted to find out how their cappuccino stacked up.
The shop is located in the Petworth neighborhood of DC, which has historically been the northern edge of a historically African American area of the city.  It is actually an interesting region because it has, for the most part, maintained a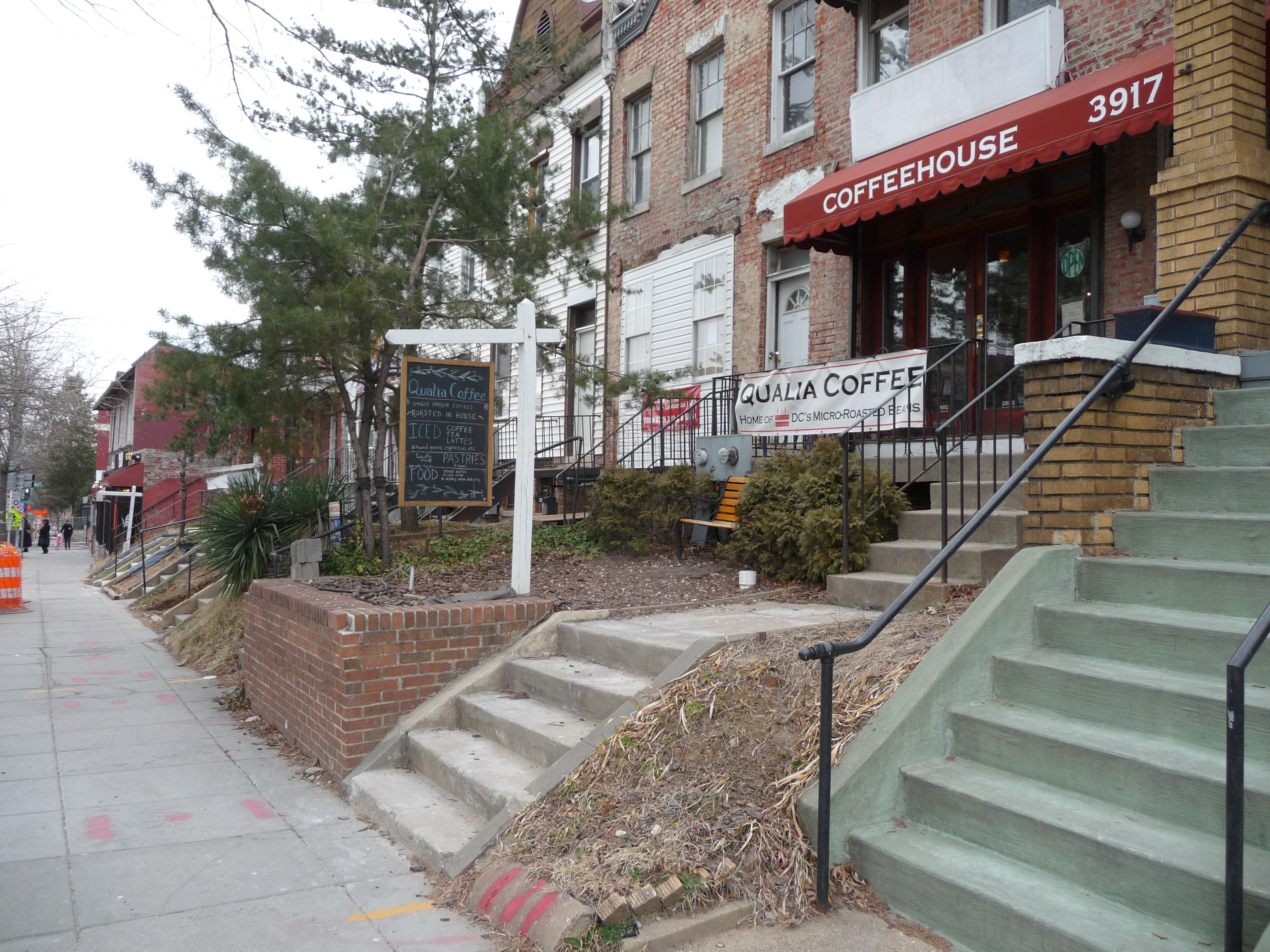 large middle class population even though there has been, until recently, very little investment there.  However, it has recently become more diverse as an influx of upper middle class professionals and other young people have begun to buy and rent here.  Although this change has not been as rapid as that of nearby Capitol Heights, Petworth is certainly different than it was 10 years ago; for one thing, there is now a hipster coffee house serving expensive espresso drinks.
The shop is located in an unassuming row house along Georgia Ave NW.  Inside the first floor is a small seating area and the coffee bar.  I have to say, the entire place is quite gorgeous, and it is obvious that a lot of care was taken in setting it up.  Also, if you visit make sure to check out the roaster in the backroom of the first floor; many days you can watch them roast the beans that they serve.  There is also a larger seating area on the top floor, accessible from the outside using a door code.  It is one of the more pleasant coffee shops I have been in, and I really give them credit for having so much class.
But of course, the cappuccino is what I was really interested in on this trip particular trip.  On this trip, they gave me a cappuccino that certainly was not a pretty as what I have come to expect in DC.  There was no art, only a plop of white in the middle of the drink.  I think this is a problem of consistency, because I have gotten drinks that looked far better from the other barista here (this is a small place, so there are just a few people on staff).  When I took a sip I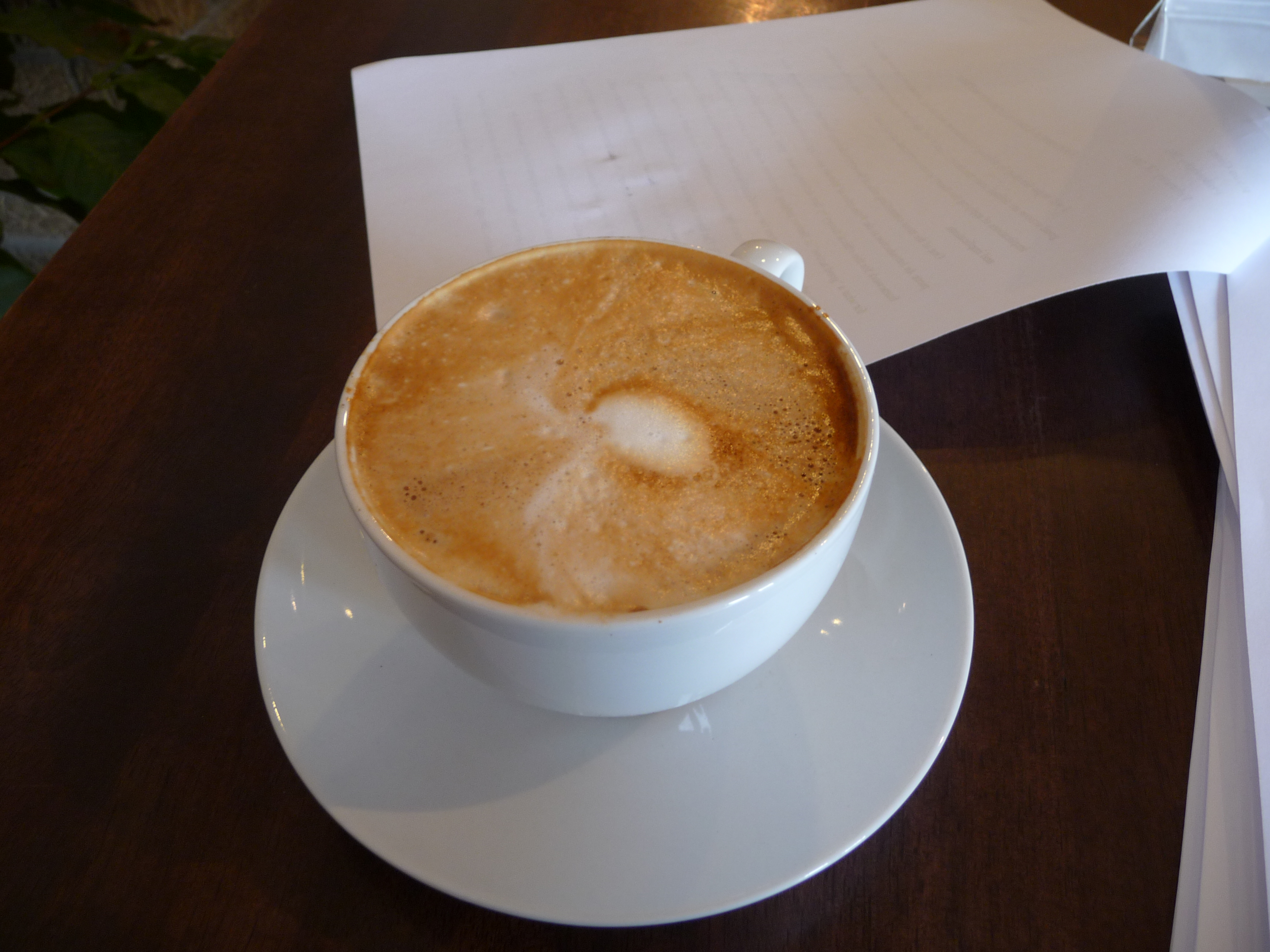 realized why the barista was not able to make very good art; there was too much macrofoam on the top of the drink.  A drink of only microfoam is required for decent foam-art.  So, the barista messed up a bit frothing (though it wasn't terrible).  I was made a bit happier with the underlying espresso.  There were some nice chocolate and fruit notes, though there was a (very) slight bitterness from (ever-so-slight) over-extraction.  So, I was quite pleased with the espresso that they are serving here, though the poor frothing left me feeling a little underwhelmed.   The ratings follow (all out of 5):
Smoothness: 4.4
Presentation: 3
Strength: 5
Complexity: 4.6
Foam: 3.9
Mean Score: 4.2
SD: .8
I'll be back to Qualia to buy their beans (especially because they are just down Georgia Ave. a bit from where I live), and will certainly get a cappuccino while I'm here.   I'd recommend that you come by and visit too!