Northside Social – Coffee and Wine
3211 Wilson Blvd Arlington, Virginia 22201
http://northsidesocialarlington.com/
Read about my planned cappuccino tour around the DC area.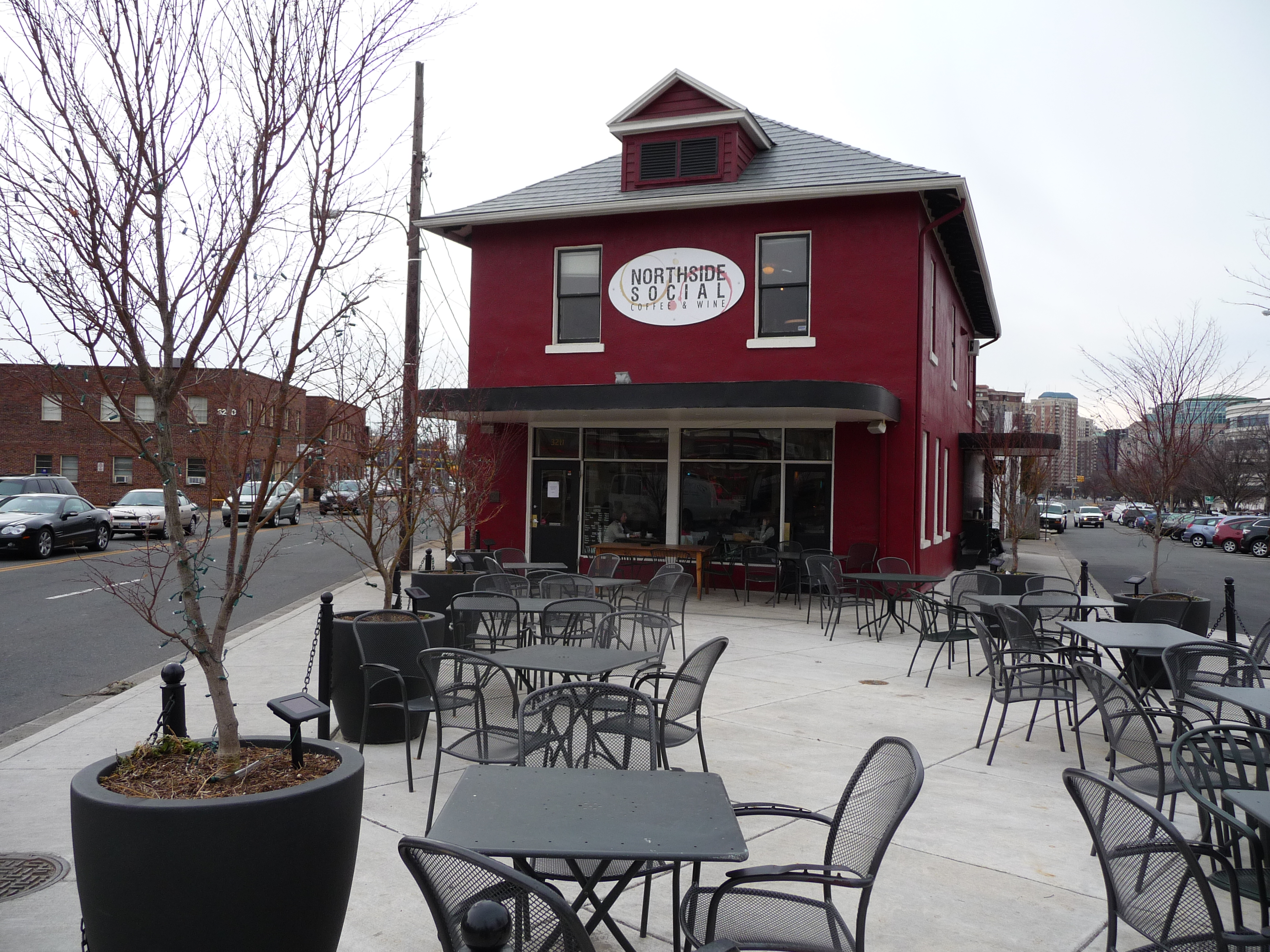 I think it would be fitting if I start my tour of DC cappuccinos with the place where DC's most famous espresso bar finally gave up the ghost.  Before Northside Social came into existence, its store front was occupied by a different coffee shop named Murky Coffee.  Murky was owned by Nick Cho, who is famous for both bringing world class coffee to DC (the land of Starbucks and Caribou) as well as telling a customer who had requested an espresso over ice (coffee sin!) that he would "punch him in his dick" if he ever came into his store again. Unfortunately, Murky closed just before I arrived here in DC; apparently, although Nick Cho is serious about his coffee, he isn't serious about paying bills, wages, and taxes.  I'll have more on this in upcoming posts.  Several cafes in DC have a connection with Murky.
With that in mind, Northside Social is a very different place from what Murky was.  I was lucky to visit Northside with a friend who lived in Arlington when Murky was around, so he had some perspective on how much it has changed.  Murky was very utilitarian, with crappy chairs and extension cords everywhere.  It also pretty much only served coffee and typical indie coffee shop fare (muffins, scones, etc.).
Northside Social is a different story.  The new owners have made the interior very attractive, with lots of comfortable seating.  The space is also very large for a DC area cafe (it occupies a large converted house), with lots of smaller rooms where one can find a bit more quiet.  Most importantly, Northside Social specializes in a wide variety of wine and food along with the coffee.  I had a cranberry turkey sandwich along with my cappuccino; it was made with fresh bread made in-house and was delicious.  My friend had a scone (also made in-house) which he thought was also delicious.
I ordered the "classic cappuccino" (they listed this as an option on the menu – this will get you a proper 6oz drink).  They serve Counter Culture Coffee (a roaster out of North Carolina), which is the most common brand of beans in high-end coffee shops in the DC area.  Most coffee geeks agree that they rank among the best coffee roasters in the country.  So, Northside Social is certainly starting with excellent coffee.
The cappuccino was a mixed bag.  The presentation and microfoam were excellent (because I was a little delayed in taking the picture, some bubbles started to form around the periphery – the original presentation was better than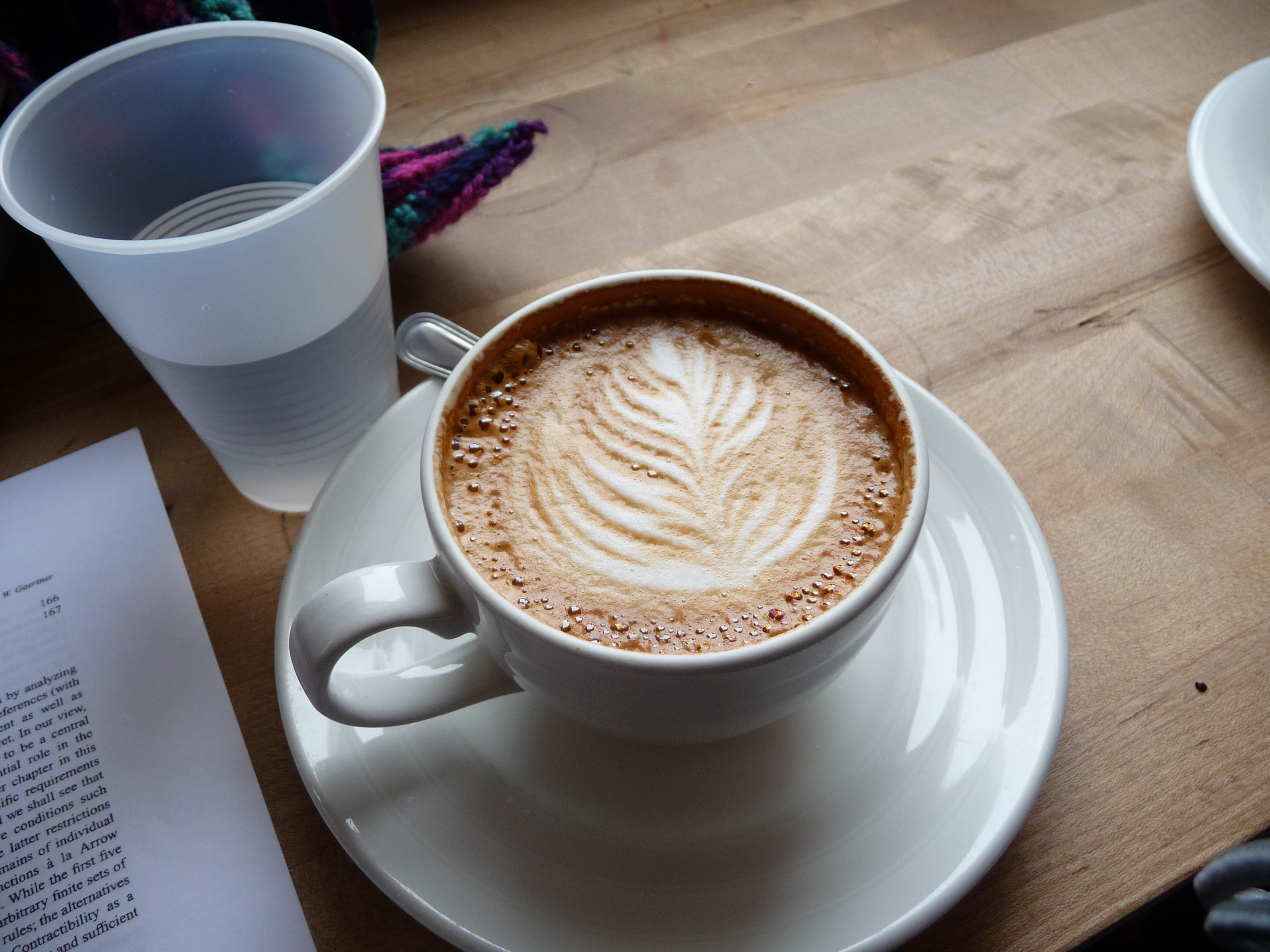 the picture would suggest).  However, the underlying espresso was a bit bitter, and lacked complexity.  Given that I know they were using high quality coffee, I think they probably over-extracted the espresso. It was quite unfortunate given everything else this place has going for it.  My ratings are as follows (all are out of 5)
Smoothness: 3.5
Presentation: 5
Strength: 5
Complexity: 3.5
Foam: 4.8
Mean Score: 4.36
SD = .87
Northside Social has a pretty good cappuccino.  I will almost certainly be back in the future, hoping that they don't mess up the espresso next time.  They seemed capable of producing great espresso here (if perhaps inconsistently), and the other amenities of the place make it a pretty wonderful cafe.
Next week I travel up to Friendship Heights to see how they make cappuccinos in the basement of the venerable bookstore, Politics and Prose.